Window & Gutter Cleaning
Firefighter Owned & Operated
We offer the BEST window cleaning service around, with FAST RELIABLE service.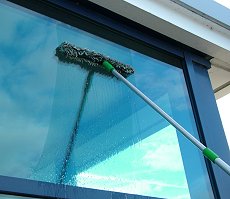 Put our over 15 years of dedicated service to work for you.
With our professional window cleaning service we will let your windows look like new again in no time.
We offer:
Inside & Out or Outside Only
Storms, Screens, Sills, Mirrors, Skylights, Ceiling Fans
Interior & Exterior Light Fixtures
RESIDENTIAL or COMMERCIAL
Gutters and downspouts need to be cleaned and checked at least twice a year. Clogged gutters can be a breeding ground for unwanted BUGS. It can also be a dangerous and time consuming job for the inexperienced. Gutters that are not cleaned regularly will hold water and debris, which adds weight to the gutters and cause the gutters to become loose. Gutters are designed to carry water away from the house, if they can't the water will back up under the shingles and into your house. All downspouts are flushed out with water if needed to make sure they are flowing like they are designed to.
80% of ALL LADDER ACCIDENTS HAPPEN TO HOMEOWNERS AND INEXPERIENCED WORKERS. LEAVE THE LADDER WORK TO US WE HAVE OVER 15 YEARS EXPERIENCE